Taking into consideration the actual fact behind concept of "How to copy contacts from Mac to iPhone "is a bit diverse fact. As Macintosh's iPhone is not at all like any other smartphones present in market. It is an IOS operated device with a set of praiseworthy functions. This is only one of the reasons why a number of users are paying attention to it, as stated in the famous quote that "Being different doesn't always has to be a good thing to admire."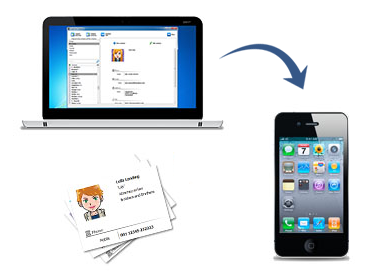 Like any other android smartphone; Apple's iPhone doesn't allow you to save your contacts list into SIM-Cards. That indicates one has to make use of Apple's own application that is iTunes in order to back up/copy all the information to iPhone.
How to Export Contacts from Mac to iPhone using iTunes?
Here in, syncing contacts from Outlook for Mac 2011 to iPhone will be stated in a step by step process:
Step 1: Create Address Book with Categories

The by default contacts list in Mac Outlook 2011 is by the name of "Address book"

For the detailing concerned users who have the need to categorize their contacts in a systematic manner can create separate address books for their lenience. As we've created a new address book called "Family Address Book"

Note: Both the address books that is the "old address book" and the new "family address book" lists have the same categories however address book names are relatively insignificant outside Mac Outlook.

Since the Mac address book is all ready, lets settle it

Step 2: Further to share contacts in Mac Outlook

To share Mac address book from Outlook

Select Outlook menu » Preferences » Sync Services. Select contacts to start syncing the address book from left.
First check "Contacts", in contacts option select or check "on my computer".

As to check whether the sync's working perfectly or not? You will have to open apple's book app from the application folder where after a while Contacts from Outlook will start appearing.

In case the contacts don't show up, the sync services might have to reset

As to reset sync services, first things that implies we've to stop Outlook for Mac's syncing services just by unchecking the Contacts in its own "Sync Services Preferences" option. Further one can assist apple's knowledge base article for better understanding of advance troubleshooting.

Step 3: Now select Address Book in iTunes and accordingly Sync

Here, we're all set to allow the created address book syncing with iTunes and further can sync to iPhone

Plug-in your iPhone with the machine and open iTunes app. Meanwhile once connected the iPhone should show up in the left navigation.
Select iPhone from the options and then choose info tab from the top. Find sync address-book contacts and allow it.
When allowed, select all contacts in order to sync with iPhone, click Apply option once done

Step 4: Have a View of Your Contacts on iPhone

Once the syncing will be done the new contacts will be on view in your iPhone
Open the Contacts app if categorized in a different new folder and click on the "Groups" once

Here in "all from my Mac" option you'll be able to see all the new synced contacts