The number of technical aspects that we heard about or come across might look, seems easier to you in the direction to carry out however they are not, at all. No matter how much tech savvy we are; there are always some limitations that one can't go beyond. This takes us to the operation where we are supposed to set up an IMAP account with Outlook for Mac 2011 mail client and in case you are also one of them who needs to set up IMAP with Mac Outlook 2011 then don't think twice instead just simply follow the directions given below to accomplish the equal:
The moment you will add your E-mail account along with the Password, a pop-up box will expand. Now you will have to fill in the exact information to this expanded Window.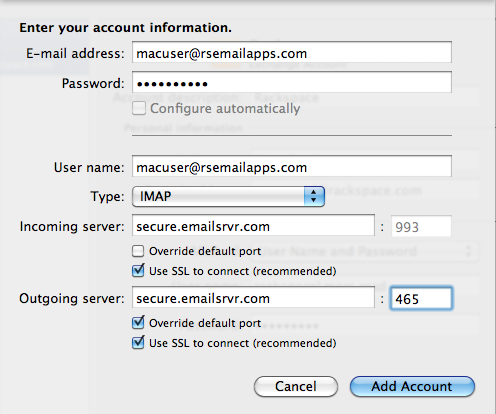 E-mail: Fill in your mail address (i.e. xyz@yourdomain.com)
Type: Opt for IMAP from Drop-down menu
Basic Server Settings:
Incoming server: imap.emailsrvr.com Port: 143
Outgoing server: smtp.emailsrvr.com Port: 25
Secure Server Settings:
Incoming server: secure.emailsrvr.com Port: 993
Outgoing server: secure.emailsrvr.com Port: 465
Note: In case your machine's internal configuration needs non-SSL ports, please look for "Email Server Settings" for the list of Available servers with ports
Make a click on "ADD Account" and then choose "More Options" under Outgoing server. Under pop-window, choose the authentication drop-down and select "User Incoming Server Info" further opt for "Done" together with confirmation to changes.